Drive Instant Massive Traffic To Your Sites
The FREE, Easy and Completely Automated Way!
Let's Show You a Proven Secret strategy to effortlessly get
your Web pages into the Search Engines within no time!
You're not having enough traffic...
But you probably already knew that. However, this is not due to a lack of drive, deficiency of passion or shortage of work ethic. It's due to a lack of tools. So, are you ready for a program that makes the traffic generation look like
a child game
?
Welcome to
Rocket Pinger
, The First Software To Provide An Affordable Way For Nearly Instant Traffic and Sales Generation to Your Websites...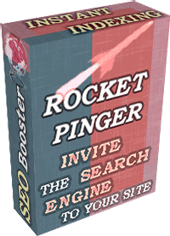 TRAFFIC = MONEY
Okay, everyone knows this formula, BUT...
How to Drive Traffic to the web site?
Driving Traffic to a site can honestly be called a science. There are many different ways to drive new visitors to your web site. You really need to be creative and talented to be successfull with your website traffic! Simply called, traffic generation is a tough job as whole,
BUT
actually it is not that hard as it looks!
Remember what was you first site you visited on the net. Wasn't it some of the biggest search engines like Yahoo, Google and etc..? Didn't you find lots of websites listed there?
Well, and Your site can be listed there too!
Search Engines traffic is the basic, the core of your website traffic! A site without Search Engine traffic is nothing!
Third party studies have proven that Search Engines provide better results than most other forms of Web advertising and traffic generation. As 80% of internet traffic is generated by search engines, submitting your Web site to ALL major Search Engines is the most effective way to promote your Web page on the Internet. Surfers actively searching for specific information on their chosen subjects submit keywords to Search Engines in order to locate suitable Web sites to visit.
Rocket Pinger Solves The 3 Biggest Problems Webmaster's Face

Providing you ability to generate good amount of traffic for FREE and without any special skills or knowledge.

Providing Super Fast Website Indexing.

Automating and Scheduling Your Daily work for Years Ahead.
I Couldn't Believe It!!!

I am webmaster for about 10 years. The first thing to do when I launch a new website is to generate some Search Engines traffic.

I tested Rocker Pinger on one of my just released websites and within only couple of hours the Search Engines started coming and spidering my page!

Only after couple of days my whole site was indexed and listed at the Search Engines!

Now That's a Revolution!

Rocket Pinger for sure will help any webmaster to get the traffic he deserves in no time!

- Steve,


Inviting The Search Engines To Your Site
Finally, an affordable and effortless way has been unveiled to almost immediately drive fresh traffic and profits to your pages - either new ones or dusty old ones....
All You need is this completely new software of its kind, to let you gain full advantage of the latest traffic generation strategy "Blog & Ping", which makes all Search Engines come and spider any page you want! You can start flooding any of your pages with Search Engine Traffic right away!
The Revolutionary 'Blog and Ping' Technique
This new Technique recenly Revealed, allows everyone to call the Search Engines spiders and have his pages crawled within no time! That's correct, we talk not just about a page, but all pages you need and we talk not just Search Engines listing, but ultra fast listing.
Just think yourself how affects your work, bringing your online business to new dimensions. With this new technique you speed up your website exposure with hundreds percents!
Learn All About How You Will Profit From
Rocket Pinger and why it is Revolutionary!
Why 'Blog and Ping'?
It is simply a recently Unveiled search engine strategy that combines the power and popularity of Blogs to get the search engine spiders visit any Web page you want. There is a lot of media attention on blogging and people who blog. Search engines love blogs because it is like having a giant staff of workers and researchers in every corner of the globe telling you what is happening on their street corner.
And as you may know, getting the search engines to visit and pick-up your Web pages can be quite a daunting task. Getting Your website spidered the regular way may take couple of weeks or more. Getting your website indexed and listed in the Search Engines takes about a month if you are lucky!
The Unbelievable Simple and FREE Way To Explode Your Website Traffic and Sales
Search Engines can't resist freshly updated content. Doing this should result in any Web page you want visited by the search engines and indexed, sometimes, in less than a few hours.
Automate the dirty work..
In order to drive real traffic to your web site, you need to regularly submit your Web site details. Each time you publish a new page, you need to submit it. Each time you update a page, you need to submit it.
As you probably realised from the read to here,
It Takes Too Much Work If You Have More Than A Few Web Pages!
Well, here comes
Rocket Pinger
!
Imagine Yourself Sitting and watching
your websites traffic generating by themselves...
NO! THIS ISN'T A DREAM!!!
How simple it could be...

Hey there Atanasis,
I've just purchased Rocket Pinger and started testing it!

My new sites were really indexed within couple of days! Just Fantastic!

At my existing sites within days search engine spider activity increased OVER 600%!

All I did is added my pages to Rocket Pinger and submit them and couples of them I scheduled for automatic submission!

Just that SIMPLE!

- Gerard,


This is what Rocket Pinger does for you:

Stop worrying, waiting, and hoping!
Wondering, doubting and getting headaches if your pages will get visited by the search engine spiders, is now past. With Rocket Pinger it is certain they will come hunting down every single page.

You can now get just about any Web page you want spidered
Rocket Pinger simly invites the search engine spiders to your pages. You receive the deserved return for your hard work on aggregating and organizing your new content and sites!

You don't have to be a SEO specialist
With the made available "blong and ping" technique which is so easy and completely automated now by Rocket Pinger you can get all your pages the deserved search engine traffic. You don't have to be SEO specialist anymore to gain search engine traffic to your sites.

Get an immediate return on your investment
Every new website you create and publish gets visited by the spiders within days. From now on not only your sites start growing faster, but and your revenue starts increasing dramatically.

Submit all your pages from one single place with a big ease!
Just one install of the script is needed to submit all your pages. No more thousands of installs and time wasting, just one install handles all your need.

Ready database with sites to submit to!
The software comes with ready full database of sites to submit your pages to. Just get the software and submit, traffic will come in mere days!

Fully customizable database!
You can easily maintain your database of sites to submit to. Full control over your submissions database to gain even more traffic.

Smart Scheduling System and Completely Automatic Submits
If You have already tried doing the "blog and ping" technique by hand, enjoy more free time to be with your family or work on new projects, rather than doing the same, boring repetitive task all day. Rocket Pinger does all the necessary daily routines completely alone and automated.

Never worry about blacklisting!
With Rocket Pinger You can make your submits through proxies. This isn't available anywhere yet! Ensure yourself all your submits will be accepted and you won't get into any blacklist ever.

Friendlier and Helpful Interface.
Rocket Pinger is designed pretty carefully to make your work with it like a child's game. Everything is properly arranged and the most important features are always just infront of your eyes. Most part of the work you will regularly do is automated and you need mostly to use the mouse and not the keyboard.

Fast and Efficient!
Rocket Pinger submits as fast and lightweight as possible, to provide you maximum single submits a day. Its server side software, so all your pings pass through pretty quickly directly from your server, not from your PC.

Flexibility at first side!
Rocket Pinger can be used as completely standalone submissions tool. Rocket Pinger can be intergrated with any Blog software as well, to provide submits on each update of your blogs instantly and completely automated.

Total control over your work!
With Rocket Pinger you totally control every single detail of your submit. The possibilities are unlimited! No restrictions on anything, its just like you submit by hand.

Get your Web pages indexed and flooded!
Using Rocket Pinger delivers you tons of free search engine traffic, time and time again, without costing you a single cent! Drive the free traffic your websites deserve completely automatic and free!
Rocket Pinger is the Full Featured, Comletely Automated
Free Traffic Generation Tool You NEED
Exactly what I needed!

Rocket Pinger is the program I had been looking for quite lots of time. When I saw it, and read all its unbelievable features I didn't hesitate and for a moment to buy it!

It allows me to completely automate my "blong and ping" daily routine and now I am free for producing lots more sites to catch up more traffic and devote to other projects.

Submitting all my hundreds of pages by hand was a real pain, but now with Rocket Pinger I don't lift a finger about it. The traffic comes by itself, Really wonderful!

Thanks for the great piece of software! I've been using the "blog and ping" technique almost since its public announcement, now Rocket Pinger automated completely the whole process for me, and my traffic and revenue really exploded dramatically!

Rocket Pinger is a "MUST HAVE" software for every webmaster out there

- Gabriel,


Search Engines Traffic Generation
has never been easier with Rocket Pinger!
| | |
| --- | --- |
| | I am Ready! Let me Get My Copy Now, So I Can Start Flooding My Sites With Traffic and Make Real Money! |

I understand that by ordering today, I pay only $57
and I will receive full featured copy of Rocket Pinger and I will be entitled to all future updates and unlimited customer support.

I will receive FREE Installation and Setup
if I am confused to get the script going.

I am sure my server will meet
the following requirements for installing and operating Rocket Pinger:

Operating System Unix/Linux/FreeBSD

PHP 4.3 or higher

MySQL

Zend Optimizer

CURL PHP Library

Wget

Cron Jobs

I completely understand
that by purchasing this product I am allowed to install it on one domain only. Despite that this software is multidomain and with one install only I can operate unlimited blogs no matter where they are located!

After my order is confirmed,
I will be able to download my copy of Rocket Pinger
Immediately
. Within 10 minutes after my purchase I can have my first sites submitted!

I can make an online 100% secure purchase
instantly by my Credit Card through the authorized retailer ShareIT.com, or by virtual money transfer at Epassporte or Moneybookers.

I'd have to be insane
to miss out on this fantastic deal! And I know I'll pay only $57 now and I can get all of my money back guaranteed by your
30 days 100% money-back guarantee!
Price: $97 - Now for $57 only!




(limited time offer, still 24 copies available at this price!)
The Longer You are Doubting On Getting Your Copy,
The More Traffic You Are Loosing Out!
Sincerely,